Make smarter decisions with Syskit Point's Office 365 and SharePoint analytics
Dig deeper, go further. Make better data-driven decisions with trusted insights.
Clean tenant, clear mind: Avoid sprawl. Make sure your Microsoft 365 workspaces are created for a reason and used regularly.
Point out adoption gaps: Compare SharePoint usage analytics for different departments and services. Detect areas for improvement.
Maximize ROI: Make better Office 365 investment decisions with timely and complete usage analytics.
You're just a few quick steps away from getting a 100% real experience of powerful Microsoft 365 management. No credit card is required, and it only takes a few minutes to start.
Top reasons to do O365 analytics with Syskit Point:
Explore Office 365 content usage by tracking:
1. Site popularity such as number of files, unique SharePoint visitors, and site hits
2. Sites with large storage
3. User actions, the most active users
4. Inactive sites, teams, and groups
Understand Microsoft Teams collaboration by measuring:
1. User activity, the most active teams users
2. Meeting count and trends
3. The most active teams & channels
4. The preferred communication method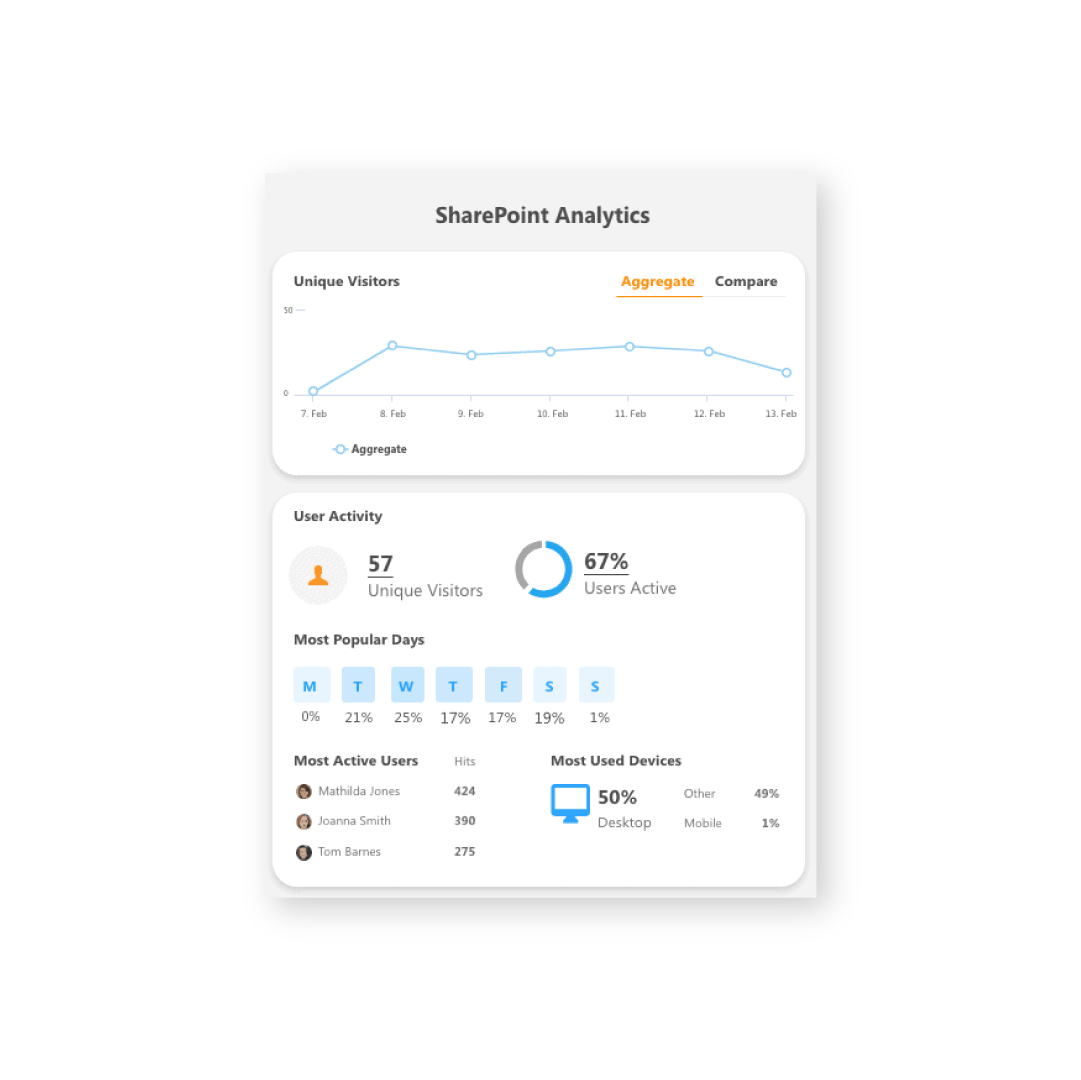 How Syskit Point adds value to Microsoft 365 tools:
| Features | Syskit Point | Microsoft 365 |
| --- | --- | --- |
| SharePoint activity to understand most popular sites, documents, and pages | | Partially up to the site level, only for admins, last 90 days |
| Most popular documents and pages | | Only in the scope of one site |
| Meeting interactions via 1:1 calls or meetings | | N/A |
| Conversation interactions via chat | | N/A |
| Microsoft Teams activity, most active teams, most active channels | | Only for admins, last 90 days |
| Teams meetings statistics, avg meeting duration, longest meetings, number of meetings | | N/A |
| Adoption of SharePoint, Teams chat and messages | | N/A |
The best thing about Syskit is the people. There are very few software providers willing to implement your ideas directly, and that's really important to us.
Anton Dorfmann, CMS & Collaboration Manager, Loacker
The pharmaceutical industry is heavily regulated, and it would be impossible to run reports that give an overview of users, groups, and what they have access to without Syskit Point.
Ulfar Helgason, Director IT & IS Coripharma