Protect your Microsoft 365 environment and improve your overall Office 365 security
Syskit Point increases your Microsoft 365 security by giving you the tools you need to secure and oversee your entire environment, from Microsoft 365 Groups, Microsoft Teams, OneDrive, to SharePoint.
With Syskit Point, you can clearly see everything in your environment, manage access and external sharing in Microsoft 365, proactively prevent security breaches, and get timely and relevant alerts. And you can do all of this quickly and easily from a single centralized platform — no more jumping from one admin center to the next and losing precious time.
Easy M365 access management
Grant, remove, copy, transfer, or edit user access with ease and get all the information you need about permissions and membership in one platform.
Manage external and guest users
Easily prevent unauthorized access to your data by completely controlling external access throughout Microsoft 365, from OneDrive to SharePoint management.
Complete sharing control
Get all the information you need about external sharing in SharePoint and your entire Microsoft 365 environment from one platform.
Easy alerts setup and customization
Create the alerting system you need and prevent security issues proactively by receiving alerts with critical details directly in your inbox.
Business benefits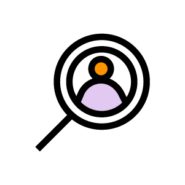 CEOs
Lower operational costs thanks to streamlined and automated access management processes.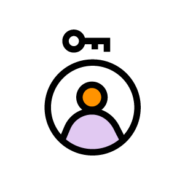 CIOs
Improved decision-making with accurate and timely data on public workspaces, external sharing links, and guest user access.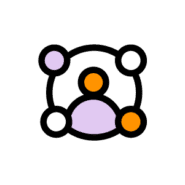 IT Managers
Increased efficiency and productivity of the IT team due to automating access management tasks and reducing time spent on identifying and resolving oversharing issues.
Effectively manage access across Microsoft 365
Even though Microsoft 365 is flexible in managing collaboration, there are uncertainties about user access and permissions. Offboarding, onboarding, and changes in external and internal collaboration happen daily, requiring every IT team to be fast and time-efficient. 
Whether it's in OneDrive or SharePoint, surprises with sensitive information often happen abruptly, and it's hard to detect who's behind it quickly. 
We've designed Syskit Point to be the Office 365 management tool that helps you avoid those nasty surprises and empowers you to oversee and manage memberships and permissions across SharePoint and the entire Microsoft 365 environment effortlessly and confidently.
Syskit Point lets you quickly:
Grant, remove, copy, transfer, or edit user access.

Add and remove admins and owners in bulk.

Change admin access.

Detect and manage content with unique permissions.

Restore permissions inheritance for multiple files and documents at once.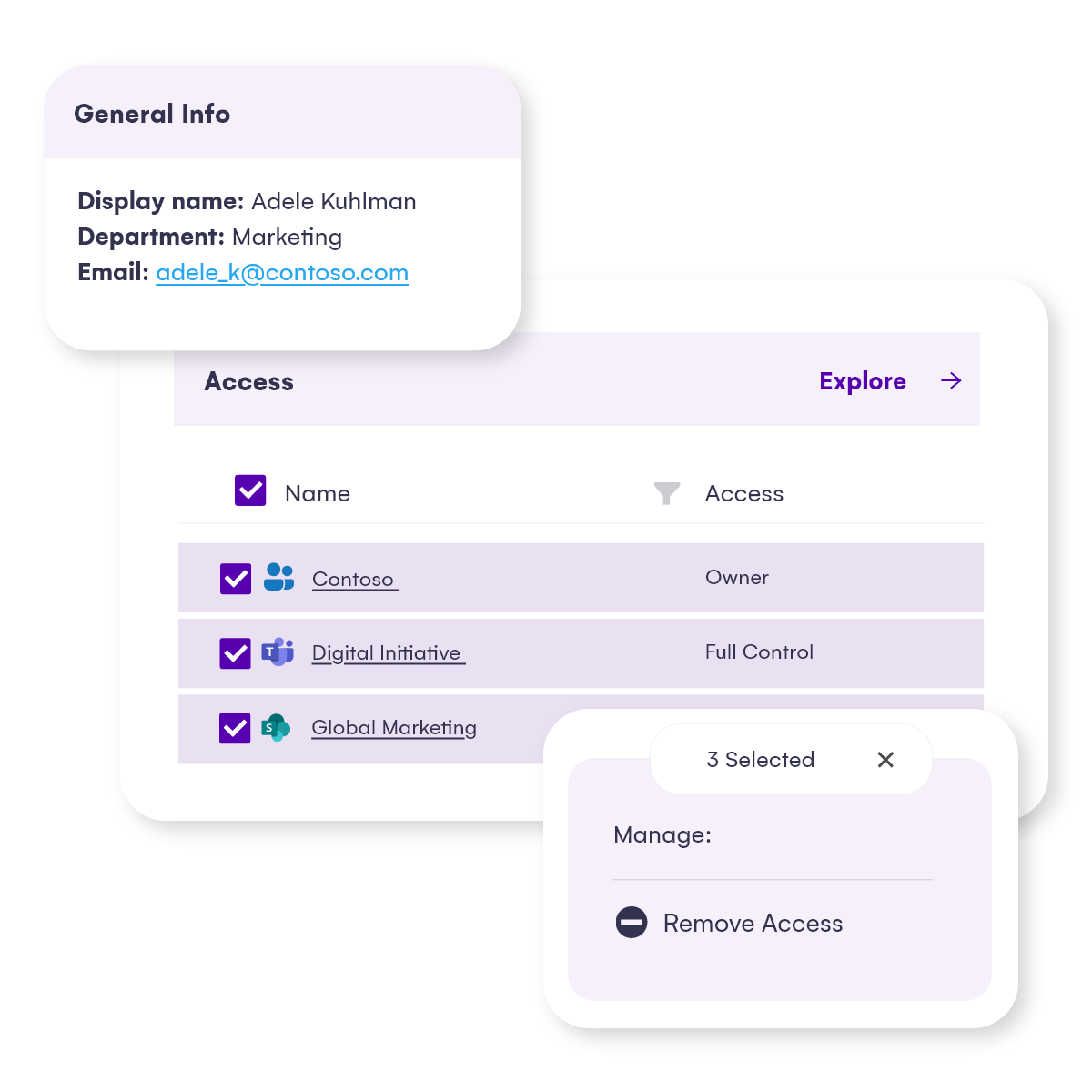 Avoid breaches due to internal and external sharing
Today, more than ever, data can easily be exposed to the wrong people. Keeping sensitive data is a security priority that you must handle effectively and without wasting time. 
Syskit Point lets you do just that. It allows you to quickly and easily manage access and excessive content sharing and helps you ensure sensitive data doesn't fall into the wrong hands, both internal and external.
Syskit Point lets you do the following promptly and easily:
Remove multiple sharing links, such as anonymous links and externally shared links, or prevent specific users from using them.

Stop OneDrive file sharing – both internal and external.

Remove any group, site, or team guest users.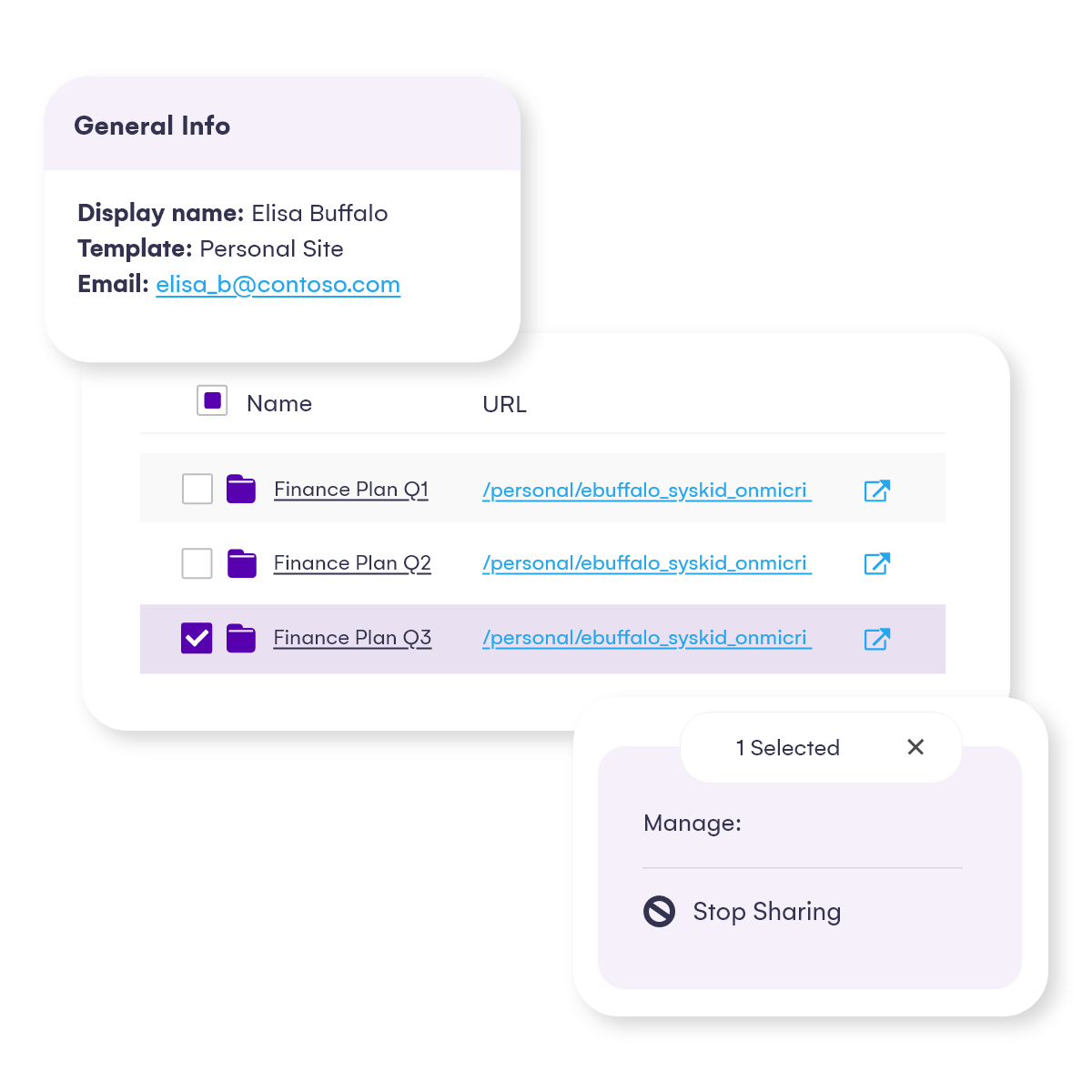 Your success is our mission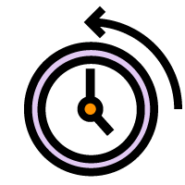 Accelerate time to value
Save money by avoiding custom development and reduce the time spent on resolving oversharing issues by 75%, according to internal research on a company with 10,000 users and an IT team of 10.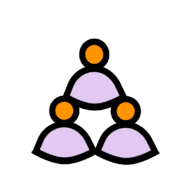 You can count on us
A dedicated CSM and support team will be there to help you succeed in no time, with no hidden costs.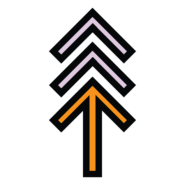 Simple, scalable platform
Grow without complex installations and integrations. Upgrade easily and anytime.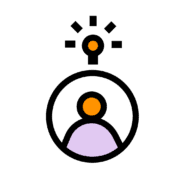 Stay ahead of the curve
Improve the efficiency of modern workspace and enforce secure cloud collaboration.
Easily set up and customize your Microsoft 365 alerts
Depending on your needs and wants, you can automate and configure alerts for your entire Microsoft 365 environment, including Office 365 and SharePoint alerts, in Syskit Point.
Syskit Point enables you to customize your alerts and explore their details. Depending on the urgency, you can dive deep into the issue straight from your inbox or through a detailed audit log in Syskit Point.
Here are just some of the alerts you can set up and how you can fine-tune them:
Track various specific user activities (external or internal) or depending on an IP range.
Get alerts for site administration changes, SharePoint, or other permission changes in M365.
Get alerts when someone shares a document with an external user or changes a group's privacy.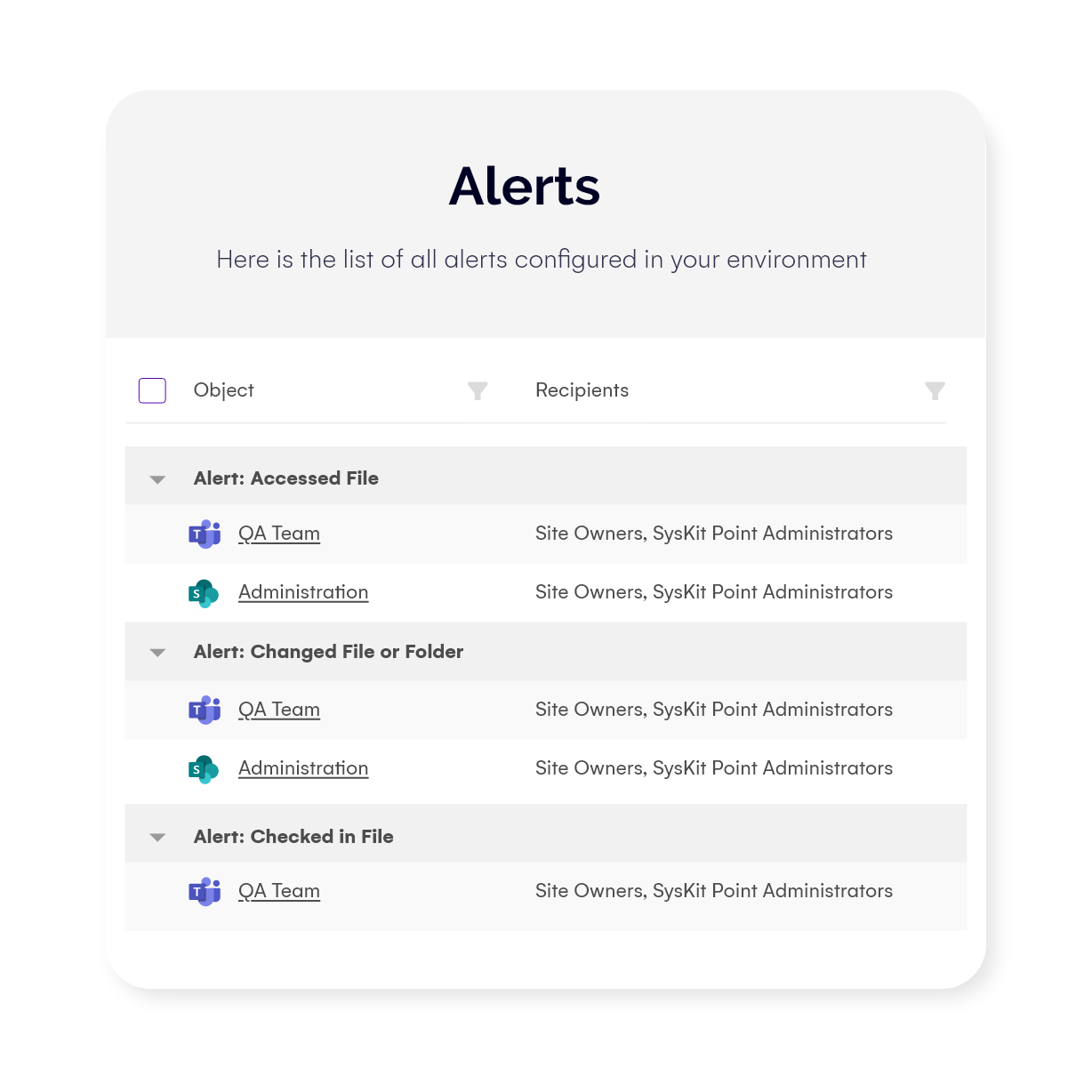 Decentralized Microsoft 365 security
Collaboration does cause challenges, but it can also provide incredible benefits. After all, this is why it's the standard today and has changed the working habits of countless people worldwide, not just those of IT teams and admins.
With Syskit Point, you can leverage these modern workplace changes to set up a sweet spot between zero trust and full trust by making site owners with operational knowledge, such as team managers and project leaders, your reliable governance partners. And they don't have to have an IT background to do it effectively.
With regular automated access reviews, you can ensure content owners routinely review workspace memberships, external users, and sharing. By decentralizing your M365 security like this,  your IT team can focus on the more critical tasks.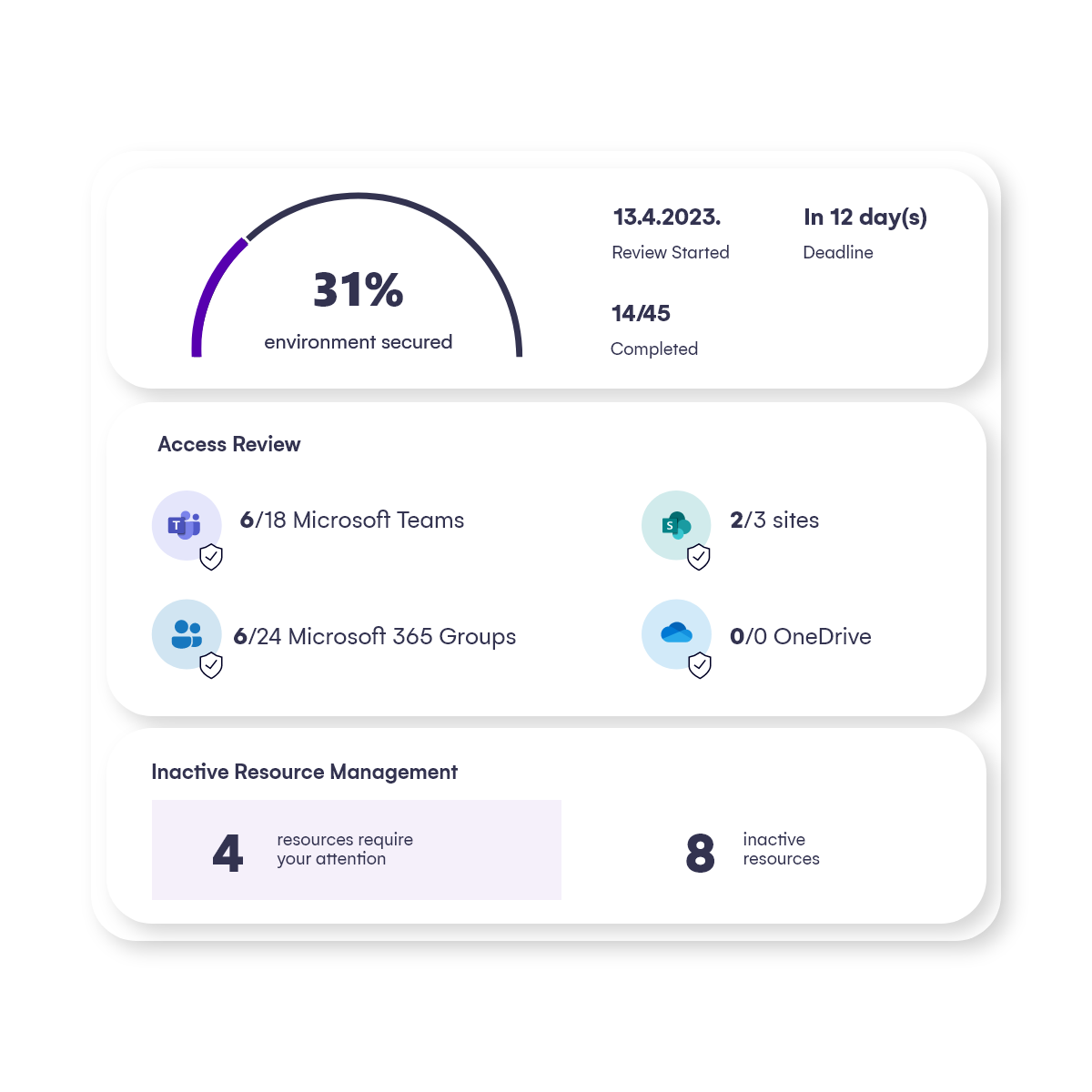 How Syskit Point helps with Microsoft 365
Discover how Syskit Point has helped customers worldwide solve their daily M365 challenges
The best thing about Syskit is the people. There are very few software providers willing to implement your ideas directly, and that's really important to us.
Anton Dorfmann, CMS & Collaboration Manager, Loacker
The pharmaceutical industry is heavily regulated, and it would be impossible to run reports that give an overview of users, groups, and what they have access to without Syskit Point.
Ulfar Helgason, Director IT & IS Coripharma