Empower content owners to manage inactive Office 365 teams, groups, and sites with Syskit Point
Clean tenant, clear mind. Team up with those who know their resources the best to reduce sprawl and declutter your environment.
Increase visibility: Have all inactive Office 365, SharePoint and Microsoft Teams users and workspaces in one report, at a single point.
Reduce your IT team's workload: Delegate governance tasks to workspace owners with operational know-how. Focus your IT team's efforts elsewhere.
Streamline governance: Stay on top of inactive workspaces by requesting their owners to manage them regularly.
Keep it clutter-free: Avoid overflow of inactive workspaces, perform Office 365 and SharePoint cleanups, and boost efficiency.
You're just a few quick steps away from getting a 100% real experience of powerful Microsoft 365 management. No credit card is required, and it only takes a few minutes to start.
Top reasons to use Syskit Point to manage inactive teams, groups, and sites:
Automatically detect inactive workspaces. Set up automatic detection of inactive Office 365 groups, sites, and teams.
Extend native capabilities. Don't stop at teams and groups archiving. Archive SharePoint sites, too.
Automate governance flow from start to finish. Use a streamlined step-by-step flow, custom emails, and a reminder mechanism.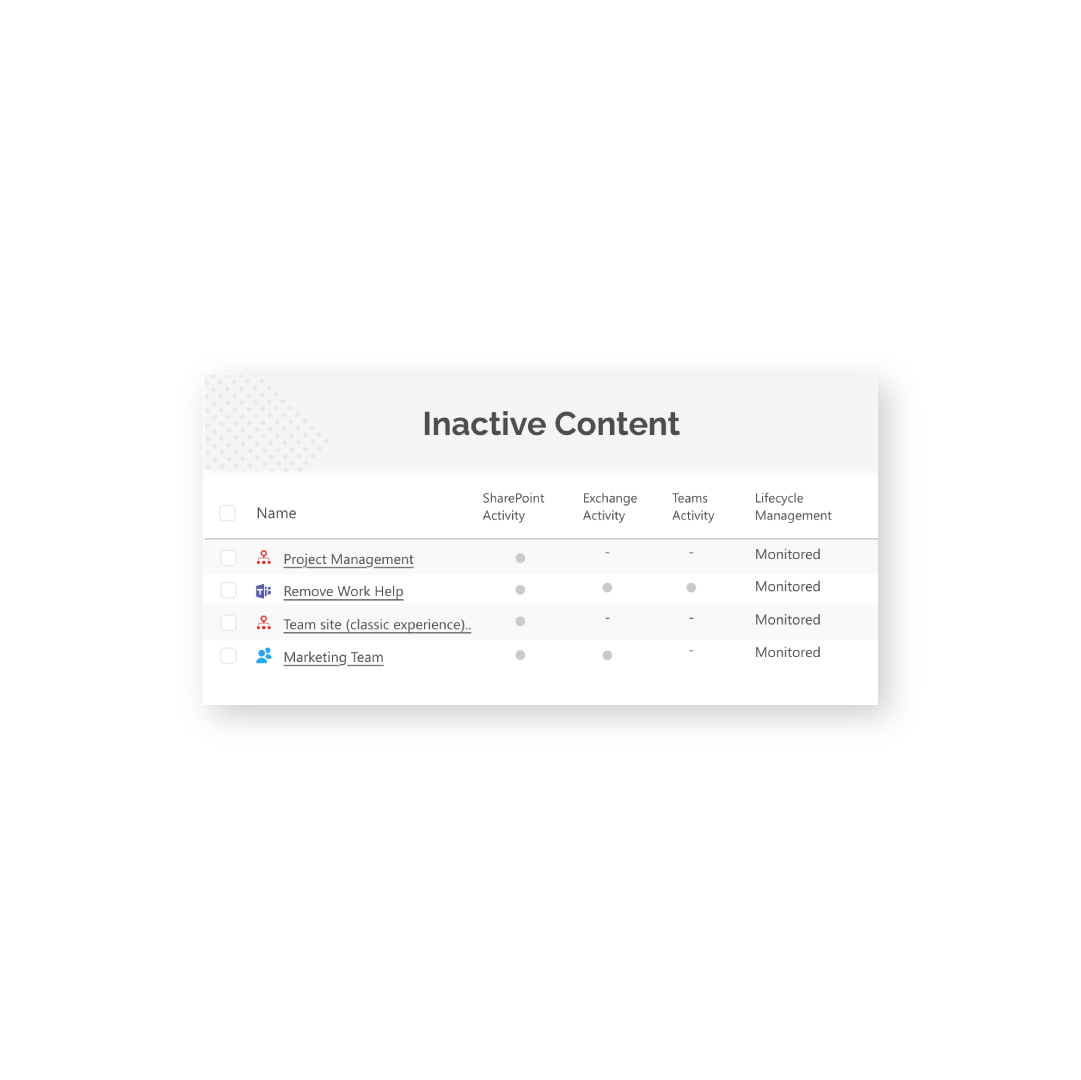 How Syskit Point adds value to Microsoft 365 tools:
| Features | Syskit Point | Microsoft 365 |
| --- | --- | --- |
| Inactive workspaces management | | Only with an AAD P1 license |
| a. Microsoft Teams and M365 Groups support | | |
| b. SharePoint Online support | | N/A |
| c. Inactive workspaces deletion and renewal | | |
| d. Inactive workspaces archiving | | Only Teams chat |
| Customizable emails and branding | | N/A |
The best thing about Syskit is the people. There are very few software providers willing to implement your ideas directly, and that's really important to us.
Anton Dorfmann, CMS & Collaboration Manager, Loacker
The pharmaceutical industry is heavily regulated, and it would be impossible to run reports that give an overview of users, groups, and what they have access to without Syskit Point.
Ulfar Helgason, Director IT & IS Coripharma