Document your entire Microsoft 365 configuration inventory and track changes with Syskit Point
Trace it all – gain full visibility and maximum efficiency to optimize your tenant.
Save time and boost efficiency: Leave switching between admin centers and using PowerShell scripts in the past. Speed up multiple admin center checkups and automate configuration inventory.
Reduce complexity: Centralize settings from multiple admin centers at a single point.
Impress external auditors: Be ready for external controlling and auditing, and comply with HIPAA or GDPR standards with a few clicks.
Make data-driven decisions: Turn data insights into fact-based conclusions about configuration changes.
You're just a few quick steps away from getting a 100% real experience of powerful Microsoft 365 management. No credit card is required, and it only takes a few minutes to start.
Top reasons to use Syskit Point's Configuration Inventory:
Document your inventory. Scan your entire tenant, crawl through workloads, and generate a comprehensive report of your cloud configuration settings.
The Configuration Inventory report includes:

Azure Active Directory (AAD) information
SharePoint Online and OneDrive configuration
Microsoft Teams and Groups setup
Exchange Online settings
Security and Compliance settings

Track configuration over time. Get a historical data analysis by creating a snapshot of your M365 settings at a certain time.
Detect changes. Identify accidental or unplanned changes between tenants.
Set future benchmarks. Mark correctly configured settings and use them as a baseline for future configurations.
Stay safe. Automatically monitor your tenant and get real-time configuration change notifications.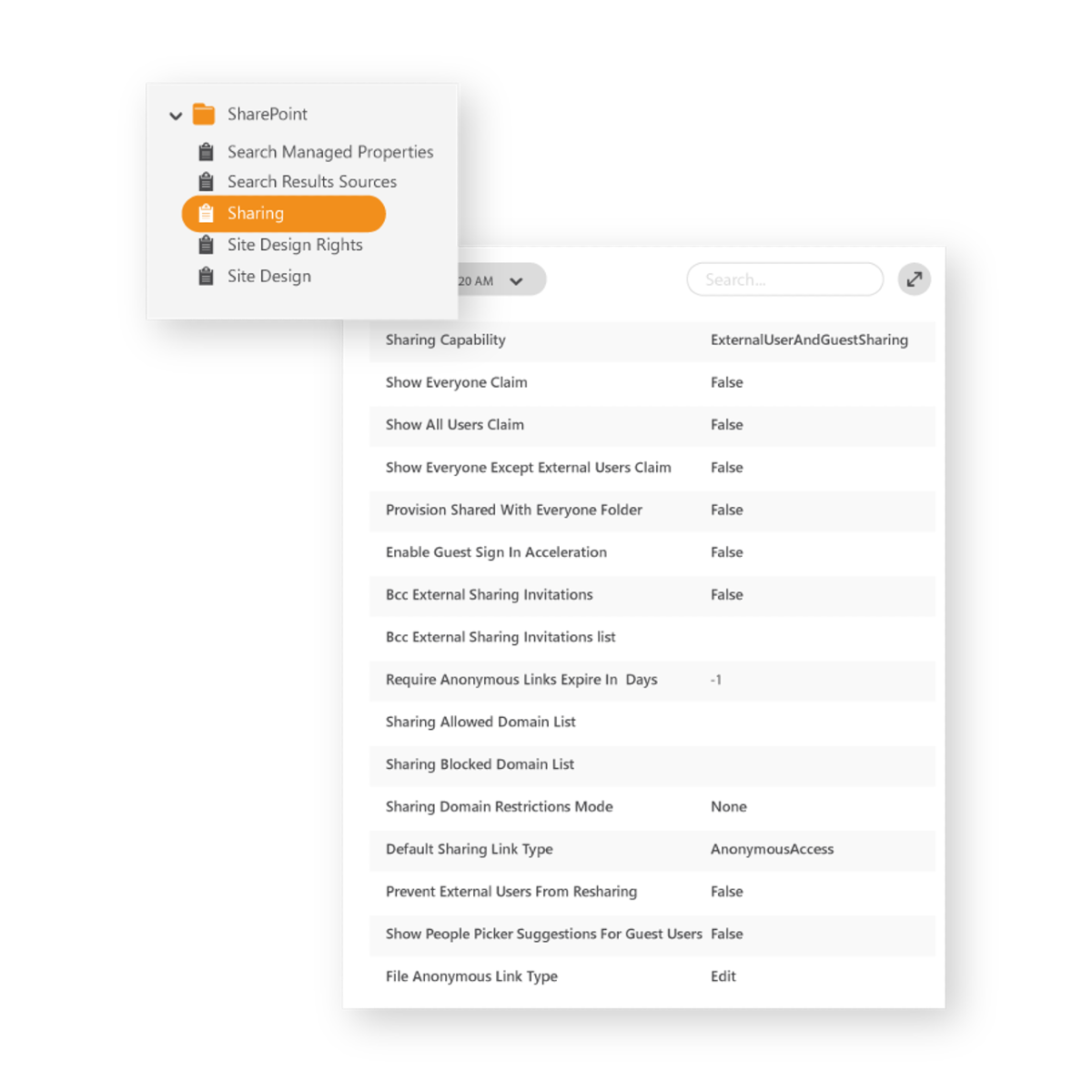 The best thing about Syskit is the people. There are very few software providers willing to implement your ideas directly, and that's really important to us.
Anton Dorfmann, CMS & Collaboration Manager, Loacker
The pharmaceutical industry is heavily regulated, and it would be impossible to run reports that give an overview of users, groups, and what they have access to without Syskit Point.
Ulfar Helgason, Director IT & IS Coripharma